The tools you need to maintain accurate financial records, produce comprehensive reports with drill down to transactions to provide in-depth scrutiny with the complete user's audit
Nominal Ledger & Cash Book
Dataflow Nominal Ledger makes information from all Ledgers readily available through an intuitive interface with a flexible structure that adapts to the needs of any organization.
Nominal Ledger is designed to take the chore out of day-to-day operations, reduce reliance on manual data entry, journal posting with optional authorisation workflow and & automatic reversal, with eight levels of analysis and comprehensive reporting enabling you to focus your attention where it matters.
Full multi-currency, multi-company operations with consolidation, gives finance and accounting professionals the tools they need to maintain accurate financial records, produce comprehensive reports with drill down to transactions to provide in-depth scrutiny with the complete user's audit.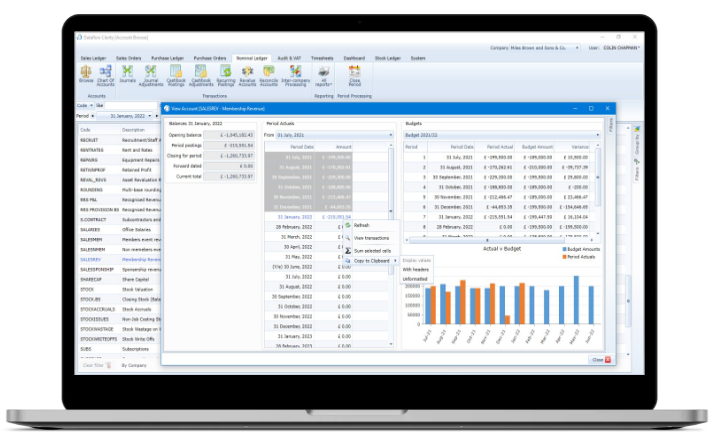 Key Benefits
Handles simple to most demanding Chart Of Accounts
Define unlimited nested segments such as profit center, subsidiary, fund, department and more, in addition to the standard GL code and reports groups
Multiple budgets for comparison and "what if" reporting
Journal-entry approval workflows with approval limits, before the journal is posted.
Data import with multiple templates for all type of data entry to save time.
Setup Standing Orders, Prepayments and Accruals with automatic reversal
Record transactions in both the local and company's base currency and posting of currency revaluation on demand
Automatic bank reconciliation from bank statements
Enter-Company processing
Distribution of costs and income for analytical purposes
Multi base-currency, providing full Dollar, Euro and GAAP support
Powerful report designer, as well as the standard reports for Trial Balance, Budget Comparison, Profit & Loss, Balance Sheet and more
Business intelligence tools for real time data analysis, performance monitoring, trend and weakness identification
Fully integrated system with shared data and drill-down capabilities for a better view of your financial transactions
Simple month-end and year-end processing
Sophisticated user security on the need to know basis

"dataflow Financials emerged as a clear winner! "The only other possible system that we considered was Sun Accounts, which we felt was too expensive. There wasn't an equivalent product available in the market for SME's, with across the board multi-currency and multi-based currency functionality, apart from the Dataflow Financial system." Devadas Vassanth, Company Secretary, JCB International – London