At every stage throughout the sales order processing cycle, Dataflow emphasises precision, speed and efficiency
Sales Orders
When you need a full Sales Order Processing cycle to manage your sales, whether you need quick ordering or are dealing with large, one-off orders Dataflow Sales Order Processing comes to help.
You can also raise sales orders from stock or generate back-to-back purchase and works orders. Multiple deliveries and batch processing are supported and email distribution of documents saves more time and money. At every stage throughout the sales order processing cycle, Dataflow emphasises precision, speed and efficiency.
Process control is simple; with instant access to management information such as customer pricing, discounts, credit limits and order history. Price maintenance is quick and easy with the ability to import from Excel and make global price changes on a product or customer-specific basis.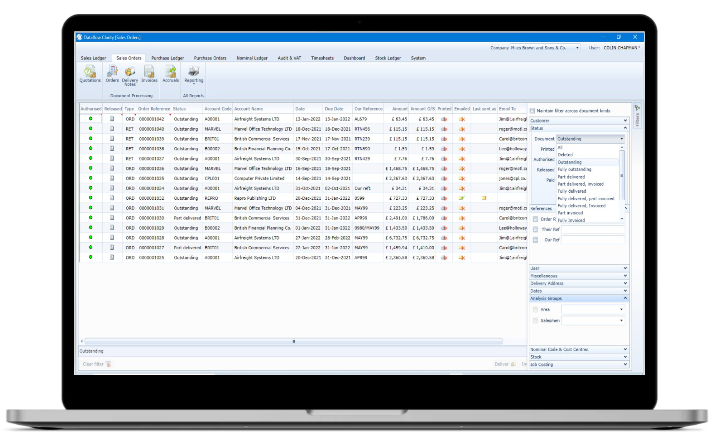 Key Benefits
Makes sales processing simple by handling all orders from one centralised, user-friendly system
Up to the minute information - customer and product details are updated in real time
Provides your team with the information they need to answer customers' queries - fast
Rapid order entry for a busy order processing department
Credit card authorization processing for orders taken online
Customers credit limit, orders and payment history visible at all time
Avoid unnecessary re-keying of similar or repeat orders by using electronic order pad; copy from previous orders or clients own templates
Integration with Electronic Data Interchange (EDI) and XML messaging enables you to exchange sales orders using email and the internet without any re-keying
Promised delivery date can be varied by each line on an order, if necessary and used to call off planned deliveries on contract orders
Powerful back-to-back ordering facility enables you to generate Purchase or Works Orders for the items required on a specific sales order
Comprehensive options for pricing and discounts include quantity breaks, start dates, promotional dates and codes, unlimited price bands in association with customer price and discount matrices, pricing by unit of measure, foreign currency prices, and many more
Comprehensive authorisation options for credit control and handling customers "on stop" allow you to deal with specific customer circumstances easily and individually
Wide-ranging standard and user definable reports and analysis
Extensive configuration features enable you to optimise the sales order process to suit your business